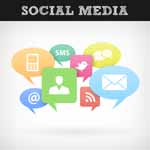 What makes a good social media campaign? We say it's essentially a mix of imagination, uniqueness, and great timing. While there is no one formula or answer, all good social media campaigns do have one thing in common: a clear theme and goal A simple mission with a powerful message can take a campaign far. Here are a few of the social media campaigns from last year, which definitely made us click the share button.

Dove: "Real Beauty Sketches"
This video was inspired by market research suggested that only 4% of women describe themselves as beautiful. Dove decided to show women that they are more beautiful than they think they are by comparing self-descriptions to those of strangers. Just one month after its release, Dove's "Real Beauty Sketches" has earned more than 114 million total views! Click on the link below to watch it.
Water is Life: "Hashtag Killer"
The campaign for Water is Life set out, for the first time, to end a hashtag rather than promote it. The charity spotted the opportunity to raise awareness about serious developing world issues by removing the ironic #firstworldproblems hashtag on twitter, in which users tweet ironically about such life burdens as non-heated leather seats or forgetting their maid's last name. Love this campaign? Click the video below to watch.
Carrie movie – viral video
The promoters of Carrie, the remake of the hair-raising horror movie of the 80s, created a brilliant viral video whichgrabbed a million views in just one day. In a hidden-camera prank, an actress appears to use psychic powers to exact revenge on a clumsy coffee drinker. The video creators used a fake wall, remote controlled tables and chairs, as well as spring-loaded books and artwork on the walls to create a real chaos. Haven't seen this video yet? Click on the link below to watch.