3 PR tips every exhibitor should know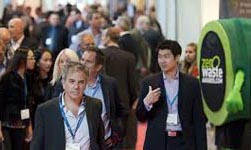 As the busy autumn season starts and thoughts turn towards exhibitions committed to earlier in the year, here are three ways you can make sure your business gets maximum value from the experience:
1. Decide on your key show message upfront
It's important to focus on what it is exactly you want to communicate to the exhibition's visitors and then design your exhibition stand plan around this. It's said that we are exposed to around 3,000 advertising and marketing messages just on a normal day and attending a busy trade show environment will only be adding to this. Bombarding people with lots of information might make for a lively stand, but the danger is information overload –  so keep it simple.
2. Make use of new and traditional PR tools
Social media gives everyone a direct voice, but don't forget to use other tried and tested channels too. A well-written, targeted press release if picked up by your key online and offline trade media, will still reach a wider and potentially more engaged audience than a Tweet or Facebook post. It will hang around longer too. Many will publish Show supplements and features so look out for their deadlines and if you can contribute something. Unless you have the skills yourself, ask a public relations specialist to help with drafting the release and creating an up-to-date media distribution list to get the best results.
3. Help the Organisers help you
The exhibition organiser's job is to make sure the show is a success so they are as keen as you will be that your business has a good experience. In the period building up to the event, the Press Office will be looking for good stories and interesting content to promote, so don't forget to include them on your press release distribution list too.